MatchPointLITE™
Optimized for small business security to monitor a single access point.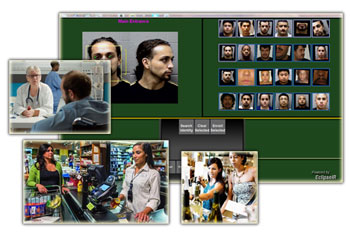 MatchPointLITE™ is designed for small business to monitor an entrance or access point to detect and alert on persons of interest. MatchPointLITE is a complete system that includes computer hardware, camera, and facial recognition software.
Common Applications
MatchPoint LITE incorporates EclispeIR's advanced facial recognition technology in a package using a single camera, and is appropriate for a variety of smaller venues such as convenience stores, drug stores, medical offices, night clubs, small office buildings, and lawyer offices.
Rapid Deployment
MatchPoint LITE is a bundled "out-of-the-box" solution that can be installed and up-and running within a few hours. Default settings can be reset to optimize a particular application and user preferences. This efficient and feature-rich package is bundled with video camera, computer hardware, and advanced facial recognition software.
Advanced Technology for Visitor Monitoring and Intruder Detection
Geared toward small businesses for visitor monitoring and intruder detection, MatchPointILITE™ detects individuals entering a building or area, from live video images and compares faces to a database to determine whether that individual is a person of interest.The technology can detect multiple faces in crowds within a single video frame, and operate in installations with adverse video conditions.
Powerful Person-of-Interest Database
MatchPointILITE™ person of interest datbase can mantain records for 250 individuals including multiple enrolled face images, name, address, gender, and the reason of interest
Dynamic Enrollment to Person of Interest Database
The EclipseIR™ systems make it easy to add persons of interest to the database. When a faces are detected, simply select one or more detected images click the enroll button, and enter the personal information, if any. The next time that person is detected and matched an on-screen alert will notify personne. In addition to face analysis information, the databased also can maintains known personal information such as name, address, gender, and the "reason of Interest.".
Automatic Recognition and Manual Search
MatchPointLITE detects faces from live video cameras and automatically compares to every enrolled person image in the database. Sophisticated mathematics determines the confidence of a match. In addition, the user can select any suspcious face(s) from the live camera and perform a search. If the person is matched appropriate action can be taken. Or the person could be dynamically enrolled.
Alert Notification and Validation
Once a person of interest is identified on-screen and audio alerts notifiy the user who can then validate the identity, and implement appropriate procedures.

Customized Thresholds
Thresholds can be set to manage findings and optimize results based on face size, image quality, match confidence, and alert levels. Users can select betwwen pres-set high, medium, and low settings, based on applications.
Image Recording and Recall
In addition to facial detection and matching of persons of interest, MatchPointLITE records and saves full-frame orignial images that can be recalled, bookmarked, and reviwed within the system.

Made in U.S.A.
MatchPoint LITE software is designed and developed by Eclpse Identity Recognition Corporation in Silicon Valley, U.S.A.

Eclipse Identity Recognition Corporation
EclipseIR™ brings next-generation facial recognition and identity technologies to the real,
imperfect world of intelligent surveillance and video analysis for law enforcement, commercial
security, and business applications.